Look at what title, look at the content!
Views:50 Author:ARTAMBER Publish Time: 2019-05-07 Origin:Site
Although I am 170cm tall and weigh 100KG, these do not affect my love of basketball in any way. I'm a big fan of the San Antonio Spurs.
First of all, I would like to introduce a "friend" of mine (I really want to say that I do not know this person.) ) Yes, yes, that's him. Watching a game at home has to be the same as being on the scene. I am a foreigner from China who doesn't understand at all. Of course, he had the bubble hand cheering gloves on his hand. I'm a big fan of the Spurs, he's a fan of LeBron. So, at home I also prepared such a glove.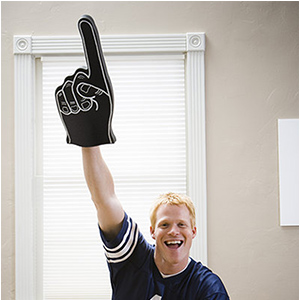 The first time this guy took out this glove, it was the last Spurs game against the Heat in the 2012 NBA finals. As a Spurs fan, it's certainly impossible to be with him at the scene. So every time LeBron scores, this person will keep waving gloves at me. I was helpless because I didn't. The results of the game are also known to everyone. LeBron got his first championship trophy of his life in 2012. Although the Spurs lost the game, I'm not sad at all. Because of my mood, was taken away by his gloves. Then he came home and begged him for a long time before he told me that the full name of the thing was called the foam hand cheering gloves.
At the cost of two pizzas, this man told me where the glove could be bought. I don't know if I like basketball as much as I do, or I like to watch the game live. I'm sure one day it will be used. So I came to be selfless to share with you, this bubble cheering gloves, where to get.
It is sold in many sporting goods stores. But relatively speaking, the price is still quite a lot higher. After my man introduced the shop, he also looked for a lot of foam hand cheering gloves. In the Land of America, I was still a stranger, so I asked my friends in my hometown. Finally, I was recommended to a company that makes toys. Although foam hand cheers gloves are not their main products, but the quality of this aspect is very good, but also because the product is not the main reason, so the price is much lower than the peer. This company is in my hometown, China-Hangzhou. You can go and see, in addition to foam cheering gloves, there are many interesting gadgets.
Like me now, too many toys, full of that man's room.