The Benefits of Children Learn to Draw
Views:51 Author:Site Editor Publish Time: 2019-06-18 Origin:Site
In an age when most children are too often drawn to screens -- whether to watch television, text on cell phones, or play video games -- art offers a chance for creativity and personal expression. Learning to draw comes with a variety of developmental benefits for children. Drawing helps stimulate their imaginations, improve fine motor skills, exercise problem-solving strategies and can also help them gain confidence in their ability to master new crafts. Drawing teaches children to make decisions and can improve visual and perceptual skills as well. "Draw" can also be a great answer for the age-old question, "What can I do? I'm bored!"
Using the Imagination
Creativity inspires learning, even in young children. When children learn to draw, they have an opportunity to exercise their imaginations. They learn to picture something in their minds and reflect those images on paper and begin to understand that what they draw is a representation of something. When first learning to draw, children experiment with all kinds of marks without any rules and create abstract pieces of art. Since there is no right or wrong when it comes to the imagination, drawing can be freeing for young children, especially children with learning disabilities. Make drawing exploratory by giving your children different materials to try, such as chalk and colored paper.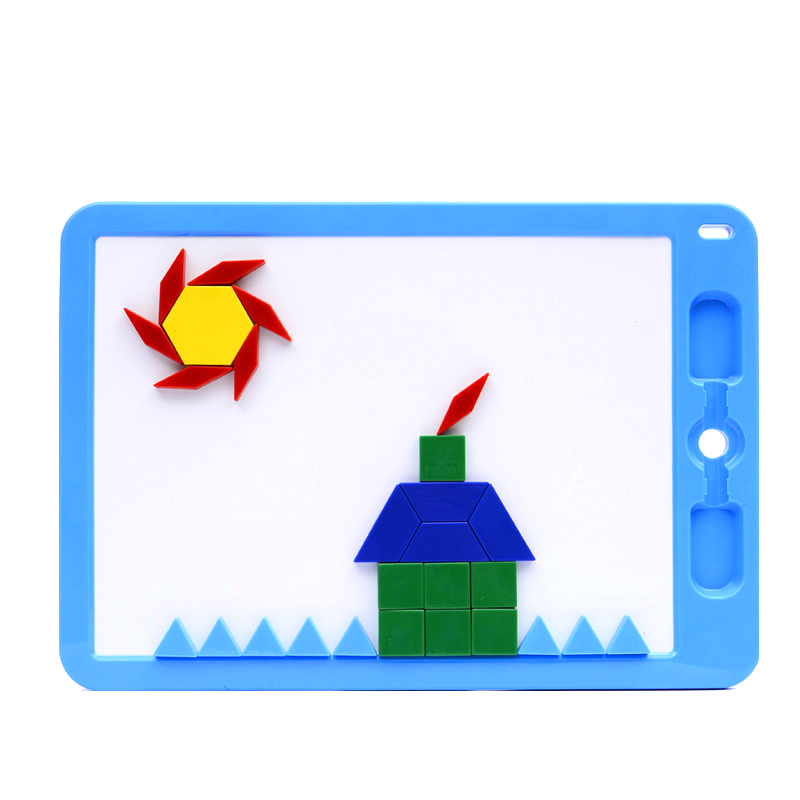 Fine Motor Skills and Hand-Eye Coordination
Fine motor skills involve movements of the fingers, hands and wrists. Strong fine motor skills help children manipulate small objects and eventually type, cut, tie, sew and do other complex activities that require working with the small muscles of the hands. When children draw, they practice hand-eye coordination as well, with activities like copying an object without taking their eyes off it. They learn to push, pull and rotate drawing tools. They see the different consequences of their hand motions. Drawing can also be a precursor to writing as children gain greater control and make smaller, more detailed marks on a page.
12 to 30 months: Start by getting some crayons, paper, magnet white board and explaining to your child that you want to draw with them. Start by drawing a line and getting your child to choose a color and continue drawing where you left off. Get your child to say the name of each color as they use it and you can do the same when it's your turn. Continue taking turns drawing straight and curved lines until the paper is full of designs and scribbles. You can now color in the shapes your lines have made and take note of any obvious shapes that may appear by saying them aloud. If your child at this stage is able to draw vertical or horizontal lines or even a circle you should praise them well. Drawing with a crayon involves grasping and holding along with other fine motor skills and will give your child's confidence a boost along with developing their vision and imagination. Always talk to your child about the picture that you are creating together. Once completed hang it on the refrigerator for you both to enjoy. You should note that premature babies may take longer to reach key milestones. Also, many kids don't start scribbling until they are 15 or 16 months old, and continue on to be excellent students at school.
31 to 36 months: By the time your child reaches two and a half, they will be able to hold a crayon well. Children at this age can now draw angels like the "V" shape which is more difficult than drawing straight lines. Your toddler will also have the ability to make circular shapes and maybe even able to write a few letters. If your child is not at this level don't feel pressured, wait until they are really interested and excited. Your toddler will draw in his or her own good time and will still be on track developmentally. Get your child to explain every squiggle in their drawing. It may look like a scribble to you but it could be of great relevance to them. At this age you will notice your toddler spending more time at their drawings as they are usually keen scribblers. Make sure you supervise as your walls and furniture can be subjected to crayon markings too.